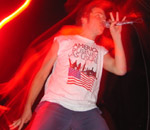 Test Tube Baby
Recitation
Now's the time to stay strong and keep fighting the bastards. To stop is to do what they want. Fuck that and fuck them.
Test Tube Baby
Speaking of going forward, I just got home from a Punkvoter.com meeting with a ton of folks including Fat Mike, Jello Biafra, and San Francisco Supervisor Matt Gonzalez. We figured out the next steps for PV- and it's going to be a blast!
We're gonna be the "Party Party"- as opposed to just another political action group. Four more years? Four more beers! (homebrew, of course!). We're also switching from election/voter registration mode into watchdog/focused issue mode. There will be ideas on how to Boycott Bush- specifically the big business bastards who bankrolled his campaign- and street level strategies on how to step up and change our local political scene. We'll stay focused, fun-loving, and pissed!
One of the specific issues we'll be concentrating on is the almost inevitable draft and how to register as a Conscientious Objector NOW instead of waiting until it's too late. If our troops stay overseas at anywhere near their current levels, the military MUST replenish its troops at rates far above current recruitment rates. How to do that besides manufacturing another Gulf of Tonkin incident? The draft. Luckily I'm way beyond draft age, but most of the people reading this are either draft age now or will be within the next 4 years.
Another PV priority is the continuing assault on Roe vs. Wade and related choice issues. Obviously the Supreme Court and other judicial appointments will be key to the survival of legal, accessible abortions and other basic sexual health and sexual education programs. A third is a combination of fighting media consolidation and encouraging media literacy. Less corporations owning more and more media outlets combined with rampant ethic problems within those media outlets (Fox News anyone?) leaves us vulnerable to the rabid demagogues salivating on right wing talk shows and websites. Fight them by checking out books like "The Culture of Fear: Why Americans Are Afraid of the Wrong Things" (by Barry Glassner) and "Manufacturing Consent" (by Noam Chomsky)!
A fourth focus for PV in the upcoming months is repairing our democracy. Years of right-wing attacks on eligible voters (false felon purges in Florida 2000 comes to mind) and mismanaged new voting technology have eroded the huge gains made during the civil rights movement. One important piece of this puzzle is happening as I type this paragraph: Both the Green and Libertarian candidates for President (David Cobb and Michael Badnarik respectively) are challenging the results in Ohio and desperately raising the funds needed to do so ($110,000)- more info at www.gp.org. It may be a lost cause in terms of the eventual winner, but at the very least we, the People, will have a much more accurate vote tally. Plus, the corrupt creeps who are manipulating our system will have a much tougher task if they continue to try to steal local and national elections.
I Pulled My Helmet Off (I'm Going to Love Her)
Many of you know that I am not a new member of the Berkeley City Council- after a hard-fought campaign, the realtor won by a convincing margin over us two challengers. (more info at townleyforcouncil.org) However, I had a great time campaigning, learning, and speaking with all of the constituents, neighborhood associations, volunteers, and other candidates. I learned SO much about local politics and people, and am set to continue to bring our issues to the Council as a serious ex-candidate and current grassroots activist.
For the rest of you, please take my campaign and the other third party campaigns around the country as a signal to do it yourself. I'm not fucking around, it's time for more of us from my generation and from the generation after me to step up. It's completely possible, we were able to run a serious campaign through fundraising alone. A combination of personal contacts and fundraiser events (music, film, spoken word, and visual art events) ensured a campaign in which we ended up solvent. My wife and I are both part of the working class, and were able to loan my campaign only $143.93- the rest came strictly from performances and donors (our friends and family, and then eventually community members who believed in the campaign). Thanks to everyone, we raised more than $17,000 and were outspent by the winner by less than 2 to 1. At the local level, you do NOT have to come from money to run (although it doesn't hurt). Of course, between campaign volunteers, my wife, and I, we walked the entire district. I rang a few thousand doorbells over the months leading up to November 2nd and spoke with hundreds of possible voters. The combination of a grassroots strategy and grassroots fundraising (no other candidate raised funds from a show headlined by Jello Biafra!) made it happen.
Another very important piece of our campaign- and the most expensive one at $6,000 total- was our campaign manager. He's a progressive (i.e. Green) who had run a few successful campaigns locally and had raised money statewide for the Green Party in 2000. It seemed pointless to re-invent the wheel so we hired someone who knew what to do and when. Of course, we still made mistakes- most of them by me- but it helped immensely to have an experienced advisor.
Jet Star 19
I strongly recommend anyone interested in running a serious local campaign to start thinking about the basics in mid-2005 for a 2006 run. You don't have to actually start working on it for another year or so, but make sure your life is ready for the time commitment a local campaign can demand. In the meantime, get more involved with your local government- are there commissions you can take part in? Is there a Councilmember or Supervisor who is pushing an initiative you support? Have you worked with your local government on a skate park, a venue, police issues, anything? If not, go for it. If so, expand your activities and meet more people who are movers and shakers in your neighborhood and in your town.

Visit Columnist's Web SIte